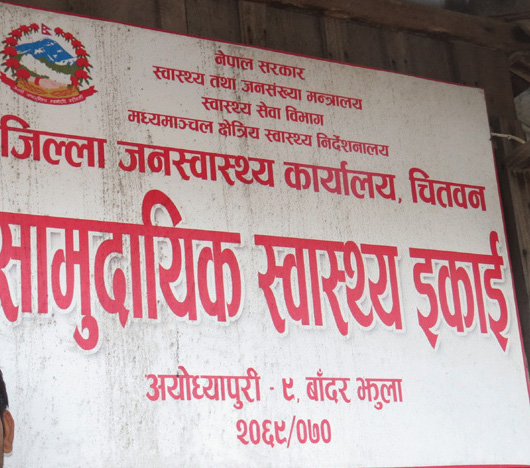 13 Sep

COMMUNITY CLINIC OWNED BY GOVERNMENT
Bandarjhula had only one SLC passed student, Ashish Gopal Pariyar. UP sponsored his 15-months' training as a Community Medicine Assistant (CMA) after which he was appointed the in-charge of the clinic. A team formed under Sawal Singh Thing took the responsibility for its management.-Samari Utthan
Bandarjhula at Ayodhyapuri, Chitwan has over five hundred households. It has just been eight years, health services have started to become quite accessible. Even minor fever would compel the locals to seek services at Thori Bazar, Parsa. A health post at the Village Development Committee (VDC) would demand a walk of over three hours, including a trail along Chitwan National Park.
In 2005, the Uplift Program (UP) established a community health clinic for around 2000 inhabitants. Medicines worth 36 thousand rupees were purchased. Kicking off with one Auxiliary Health Worker, following year welcomed one more helping staff, whose remuneration was funded by the same program.
Until then, Bandarjhula had only one SLC passed student, Ashish Gopal Pariyar. UP sponsored his 15-months' training as a Community Medicine Assistant (CMA) after which he was appointed the in-charge of the clinic. A team formed under Sawal Singh Thing took the responsibility for its management.
Because the clinic was not formed to seek profit, medicines were available at the exact price they were bought for. A ticket would cost two rupees. Fever, headache, common cold stopped chasing people away to faraway places. Pregnant women would breathe sighs of relief.
Apart from its regular services from 10 am to 3 pm, the clinic also provides emergency services to those in needs with a ticket price of NRs 20.
Gone are the days when people died of a lack of health services or being taken for treatment with witchdoctors. This clinic has also been able to raise awareness among the locals to not to choose superstitious methods of treatment. Most of the people now are familiarized with modern technologies of the health sector. Also, family planning services has helped them control unwanted childbirth.
In 2008, Samari Utthan Sewa was formed to carry on the activities of UP. Its success would not have been possible, that too with success, without the active participation of people. Still, some risks exist.
Without the support of the government to ensure the sustainability of the clinic, its future still seems unpredictable. The clinic management committee has proposed local government agencies for support.
Since 2011, the local village authority has started supporting for the remuneration of two clinic staffs. This has economically relieved SUS to some extent.
Among its different purposes, one is to serve as an immunization center. Also, its continuous pressure towards establishing a government hospital at Bandarjhula, made the authority accept it to be run by the government since 2013 with one person each for AHW, ANM, and helping staff. Responsibility of remuneration was taken by the district public health office. In 2014, one more ANM was recruited. The quality and standard of health service are increasing.