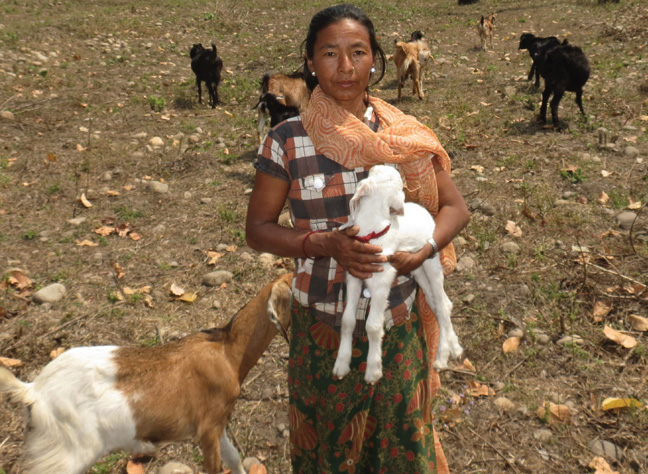 13 Sep

NEW BIRTH
Nobody used to trust me for lending when I fell sick and ask for money. The lender would ask me- "what is your source for paying back? I would give you money if you had the way of payback." – Budhmaya Magar
I used to get scared of unknown people. On seeing someone unknown, I used to go to the jungle out of fear carrying a sickle even when I had no work. When there were enough raw materials at home, I used to make alcohol that would last month. I used to drink plenty and even shared with others. There was no hour you would not find me tipsy.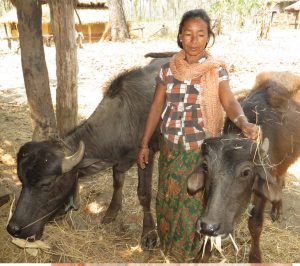 As I became a member of Sirjana Women Group formed by Samari, I developed a habit of saving. There I received training on beekeeping and vegetable farming. I got a loan of Rs.3,000 from the village cooperative to buy a piglet and rear. After nine months, I sold it for 16,000 rupees. Then I bought a young buffalo for 12,500 rupees. Adding some money to the remaining amount, I bought two piglets for 6,000 rupees. After few months, I sold them for 20,000 rupees.
That money helped me get in on my room. I got a solar panel for light. The buffalo conceived two times in three years. Both were females. I kept the first calf and sold the mother and the second calf for 45,000 rupees. I used the money for household and issuing a driving license for my son. I still have 20,000 rupees left with me.
The young buffalo is now two years old. It is likely to conceive next year. When I reared buffalo, I could not feed the pigs. So, I stopped pig rearing. Instead, I bought two mother goats. Now I have nine goats. I have bought a pair of young he-buffaloes two years ago. There are customers who offer me over 35,000 for those but I have not sold them.
Previously, I used to rear chicken and sell them. With the savings, I had bought a pair of oxen. They are still there. After involvement with Samari, my life came back on track. Nobody would lend me money in need as they saw no sources I could pay back with. Now I am the one people ask loans with. I can easily lend 10-15,000 to those in need. I feel empowered.